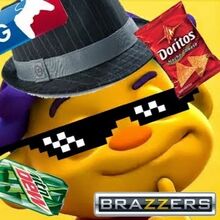 Sid the MLG kid is a supporting character in TWD. He is a member of the Meme Force and he owns a MLG sniper shop in the Dank City Markets called Scope Shop. He first appeared in the episode The Conquest of Kwame where he supplies the gang with snipers. He usually appeared when the Meme Force needed a sniper.
Personality-Sid loves his friends and he loves his store. He is a very good businessman.
Skills-Sid is one of the best snipers in Dank City and usually snipes for the Meme Force
Ad blocker interference detected!
Wikia is a free-to-use site that makes money from advertising. We have a modified experience for viewers using ad blockers

Wikia is not accessible if you've made further modifications. Remove the custom ad blocker rule(s) and the page will load as expected.