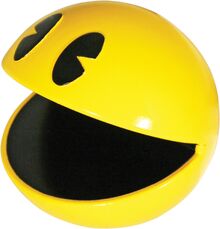 Pacman is a Character in TWD first appearing at Shrek and Johnny Test's Wedding in episode 10. He was a minor character until season 7 where he got his very own episode with his boy friend Theodore Roosevelt called Pacman and Teddy's Big Adventure. He is a member of the meme force.
Personality-Pac man is always extremely hyper mainly due to his cocaine addiction. He loves to gobble things including his boyfriend. When he is calmed down, he is an extremely caring person.
Love Life-Pacman used to be married to Mrs.Pacman but got a divorce due to her being very abusive. He now has been dating Theodore Roosevelt since season 1.
Ad blocker interference detected!
Wikia is a free-to-use site that makes money from advertising. We have a modified experience for viewers using ad blockers

Wikia is not accessible if you've made further modifications. Remove the custom ad blocker rule(s) and the page will load as expected.