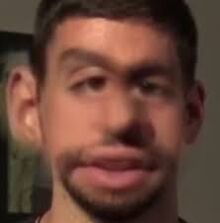 Joey Salads is a recurring villain from season 3 and onward of TWD. He is a member of the sneaky pranksters, and is known for peeing in other peoples mouths. Joey also has many kids on speed dial, and is known to hang out with Jared from Subway.
Powers-Joey can shoot ranch dressing out of is special salad tip.
Ad blocker interference detected!
Wikia is a free-to-use site that makes money from advertising. We have a modified experience for viewers using ad blockers

Wikia is not accessible if you've made further modifications. Remove the custom ad blocker rule(s) and the page will load as expected.