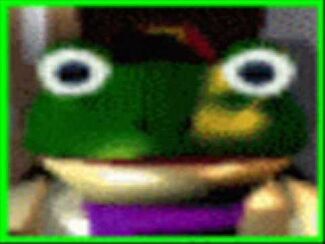 Froggy Seamen is a recurring villain who appears in seasons 32 and 55 of TWD. He is part of the Seamen Crime Family and is the brother of Toader Seamen. He first appears in seasons 32 where he begrudgingly helps his older brother kill Shia and the Meme Force, but behind the scenes, he is secretly trying to take control of the family. In the season finale he escapes the fall of Toader's space mansion, in an escape pod. He returns in season 55, now in control of the Seamen Crime Family. He wants revenge of the Meme Force for the brutal death of his brother, and this arch lasts for three episodes until Shia runs him over with a submarine and blows up his water base.
Froggy is a toad which means he jumps super high and shoot toxic lilypad jizz out of his wang.
Ad blocker interference detected!
Wikia is a free-to-use site that makes money from advertising. We have a modified experience for viewers using ad blockers

Wikia is not accessible if you've made further modifications. Remove the custom ad blocker rule(s) and the page will load as expected.