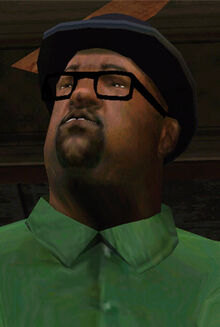 1Big Smoke is a recurring character from season 2 and onwards of TWD. Big Smoke is a weapons expert and weed dealer for the Meme Force. He was first seen as a random meme force member in the episodes P.F Changs. He was then brought back in the episode Smoke Weed Everyday as a weed dealer for the meme force. Then in the episode Weed Whacker,
Clifford
tries to kill Big Smoke, and ends cutting Smoke's arm off. Big Smoke was saved by
John Cena
and got a new robot arm. This incident with Clifford caused Big Smoke to quit the weed dealing business. Big Smoke then found a new job in the Meme Force, as a weapon expert.
Powers-Big Smoke can harness the power of two number 9s, a number 9 large, a number 6 with extra dip, a number 7, two number 45s, one with cheese, and a large soda.